About Longhaired Jewels
I have worn my hair long all my life, currently its length is past my waist. I have for many years found it difficult to find unique hair sticks in the UK so I usually ended up having to buy them from other countries, but then you have to factor in the shipping costs which can be quite high. For quite some years I have been making my own jewellery so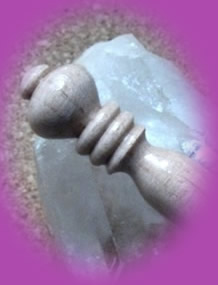 I decided to put my beading talents to another use and started to create my own hair sticks which I have been selling at various places on the internet with free shipping to customers in the UK. Recently I decided it was time for me to have my own web site so here I am.

I buy and use 6 inch hard wood sticks that are hand carved and dark stained, they all vary slightly in pattern and colouration making each one unique. I enjoy making natural hair sticks from wood sourced from my garden and friends' gardens; these are hand carved by me. Additionally I make pine hair sticks which I colour using water colours and then finish them with a water based silk varnish which makes them super smooth and water resistant.

All my natural wood sticks, when not varnished, are treated with Pure Tung Oil which is a natural seed oil that protects the wood. Tung Oil is not greasy to the touch when fully cured and provides a non-toxic and very hard wearing finish that is resistant to water. For superior results I apply 3 coats of this oil rubbing it in by hand and leaving 24 hours between applications to allow the oil to penetrate and seal the wood. Following the final application of oil the sticks are buffed with very fine grade abrasive and polishing cloth.

I have recently had the good fortune of meeting a local wood turner. Although a craftsman with many years experience he has never attempted making hair sticks before and was very interested in working closely with me to produce turned sticks which I would then finish by hand in the same manner as I finish my other sticks. This talented British craftsman and I have created a number of sticks working together which I hope will please my customers and I am sure there will be many more in the future.

Nothing that I use in the preparation of my hair sticks is toxic or likely to damage your hair. Hair sticks allow you to secure your hair in a bun or updo without the use of damaging hair elastics or other potentially damaging hair accessories.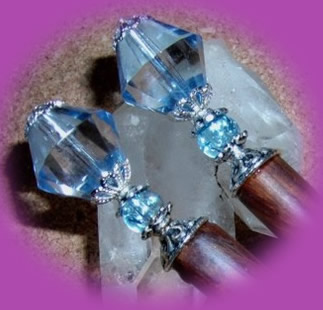 Where possible I like to use semi-precious stones to adorn the hair sticks but I am also like the patterns and colours found with lampwork beads or some other beads/stones that catch my eye.

As I have been making jewellery for many years you will from time to time see the odd bracelet, earrings and necklaces for sale on this site.

If you are looking for a particular colour to adorn a hair stick then I would be happy to discuss making a custom stick for you so please feel free to contact me. Likewise if you are interested in a pair of earrings to match one of the hair sticks being sold here I can always do that for you as well.