Genuine Amish hairpins. If like me you have ever experienced problems with the usual hairpins that can be bought, then these could be the solution. These wonderful stainless steel Amish hairpins are super strong and wont bend out of shape, they will hold most up-dos rock solid.

I have bought a few from the US for sale to my customers in the UK and Europe that are interested in giving them a try. At present I have straight pins in 2, 2.5 and 3 inch lengths – Pack of 12 for £5.50. I also have some wavy pins in 2.5 and 3 inch lengths – Pack of 12 for £6.00. Free shipping within the UK.

I have strictly limited stock, if you are interested then please Contact me. I might be prepared to split a pack if you are interested in only buying 6 pins to try.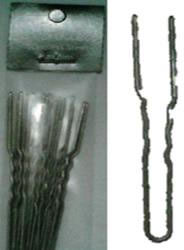 ---
SHIPPING CHARGES:

UK - Free :: EU & Europe - £2.80 :: Rest of world - £3.50

When buying from outside the UK please email me first, I will invoice you via PayPal to include the appropriate shipping charges